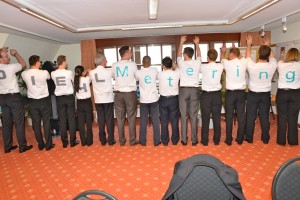 Last week I finished a Potential Development Program for one of my customers – a program for an internationally composed group of 13 young potentials, coming from Brazil, China, France, Hungary and Germany. Nothing unusual, really. Yet: When the group started their Final event dancing, it became clear that this was anything but usual. The passion and the enthusiasm at the Final Event of the group were extraordinary.
Despite or just by reason of the presence of their direct supervisors and the management board of the company the group went above and beyond and exceeded all expectations. They demonstrated their abilities and potentials in supporting to lead the company from within to a successful future. Their smiling and sparkling faces infected the audience.
The final event was given a frame by a charming and inspiring facilitation of two group members. The participants surprised the audience by an entertaining change of presentations, role-plays and challenges to do for the audience.
They did everything to make this Final an unforgettable event for everybody and especially for their managers – they did everything to set up and repeat the message that they ARE JUST NOW READY to take over more responsibility for the future of their company, for the vision 2020.
The only thing to add from my side at this point is:
Congratulations!
You did it – you rocked the show!
Great work, intensive preparations, high output and performance!
I'm impressed. So, folks, continue seizing the day. Today starts the rest of your life. Bye. Your trainer & coach Ralf.